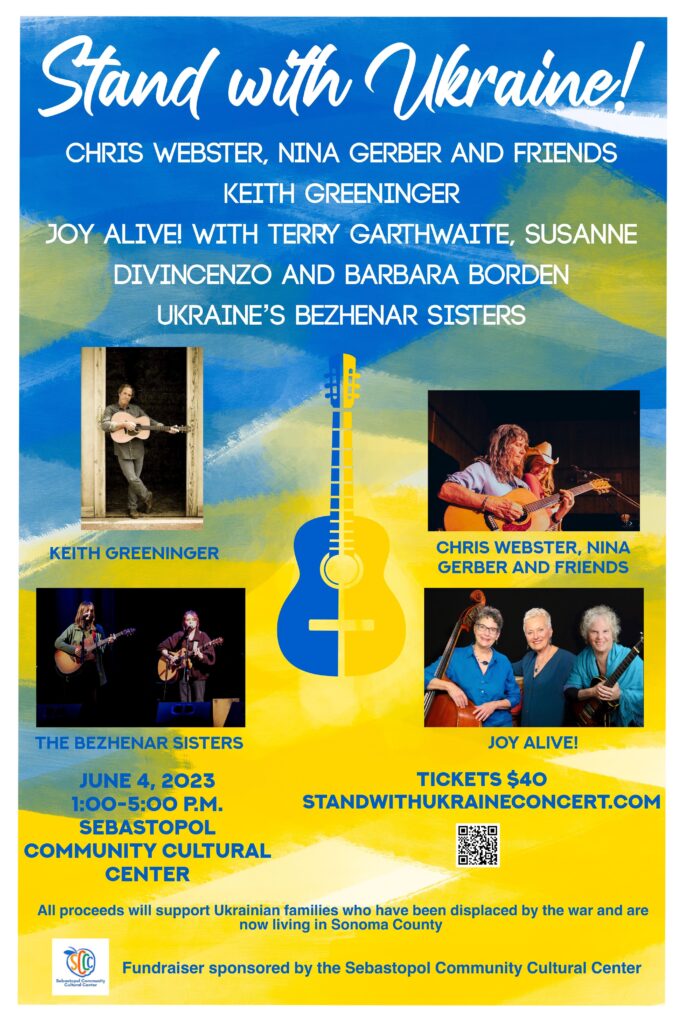 Stand with Ukraine! Benefit Concert
Dear friends! We invite you to the charity concert
When: June 4th, 1:00-5:00 p.m
Where: Sebastol Community Cultural Center
Music fans around here certainly know both Chris Webster and Nina Gerber as two of the most skilled and artful musical talents we've had the pleasure of hearing. Webster's voice is uniquely compelling while Gerber's work on guitar is breathtakingly both beautiful and powerful. Together they are magic. Webster and Gerber join together for an exquisite afternoon of original tunes and tasteful covers–soulful ballads, jazzy tunes, and gorgeous folk.
Chris Webster is a very special singer. She can rock, she's got soul, and most of all she can find the tiniest hints of emotion in any song and make it reverberate in our soul for a mighty long time. Also, she's grown into a major league songwriter, whose lyric takes on love, lost love, and the general vicissitudes of life and are at different times poignant, funny, introspective, and exhilarating. Stylistically Chris runs from country, pop balladry, jazz, folk, blues, and whatever she does she brings sensitivity, strength, and an emotional breadth that few singers can match. Of course, many people around here are very familiar with Webster as one of the lead vocalists in local super group Mumbo Gumbo.
Guitarist Gerber has a long history in Northern California music performing guitar accompanying dozens of artists including Kate Wolf, Steve Seskin, Ferron, Dave Alvin and most recently Karla Bonoff. She is exquisitely tasteful as an accompanist on both acoustic and electric guitar. Together Webster and Gerber create magic like few others.
What Keith Greeninger brings to his brand of singing and songwriting is authenticity. As a result, there are no barriers between the artist, his music and his audience.This bond stems from his underlying philosophy that music is first and foremost a gift and a soulful medicine to connect us and take part in together. He is a seasoned troubadour and multi award-winning songwriter, who paints intricate portraits of the human condition with powerful melodic images, deep engaging guitar rhythms and husky, heart-wrenching vocals.
As a solo artist, and as a founding member of the renown trio City Folk, he has toured the national Folk and Americana circuit extensively for the last two and a half decades. Hes performed at legendary venues, appeared on countless national radio shows, and shared stages with some of the countrys best-known artists including Crosby Stills and Nash, Bruce Cockburn, John Hiatt, Michael Franti, Jessie Winchester, JJ Cale, Los Lobos, and many more.
When Eleanor and Angelina Bezhenar fled Ukraine in 2022 with their grandmother, mother, father, and younger sister, they never imagined that they would share a stage and perform in a concert a year later with established musicians like Chris Webster, Nina
Gerber, Terry Garthwaite, Susanne DiVincenzo, Barbara Borden, and Keith Greeninger! Thanks to the support and mentorship of Nina Gerber, their musical horizons have expanded, and what was once an uncertain future is now filled with many possibilities.
Joy Alive! Is a band synthesis of Terry Garthwaite from the Joy of Cooking and Susanne DiVincenzo and Barbara Borden of Alive! Both groups were influential bands from the 60s to the 80s. Now enjoy the inventive 20s version of this band in concert.
Their music is rhythmic, upbeat and hopeful a soothing balm any time, especially now! Spreading joy through music, heart to heart, is key to the members of Joy Alive!
All proceeds will support Ukrainian families who have been displaced by the war and are now living on Sonoma Country