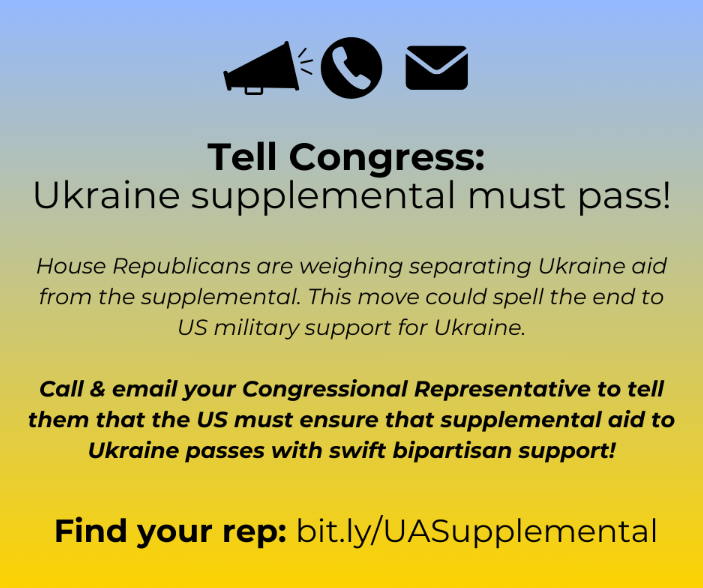 Dear Friends,
Punchbowl news reported yesterday that Speaker McCarthy is considering separating the Ukraine supplemental appropriation from disaster relief funding. This move would effectively bring an end to U.S. aid to Ukraine. Current funding EXPIRES on September 30.
IT IS EXISTENTIAL and URGENT that you call your Congressmen and Representatives on Monday Sept 11 and Tuesday Sept 12 by end of day.
This is an all-hands-on-deck moment. Please feel free to use this template below, or just use the automatic system here.
Open: Hi, my name is Mykola, and I live in your district — my zip code is 48085.

Topic: I'm calling/writing to say I'm shocked that Speaker McCarthy is considering playing politics with aid for Ukraine.

Thanks: I am very grateful for all the support the U.S. has provided so far.

Why: Ukrainians are fighting Russian imperialism so that Americans don't have to. Ukrainians are dying for the values our country was built on: the right to live freely in your own land.

End: The U.S. must continue to help Ukraine, and as your constituent I urge you — I urge you — to ensure Ukraine aid remains bipartisan and passes as swiftly as possible.
Here is the link to *automatic system* for contacting reps ): bit.ly/UASupplemental.
How to find your member of Congress: use Congress.gov — enter your Zip Code and call the phone numbers that show up!
DO NOT STAND ASIDE! DO YOUR SHARE WHILE UKRAINE HEROICALLY FIGHTS AND CALL YOU REPRESENTATIVES ON MONDAY OR TUESDAY NEXT WEEK!