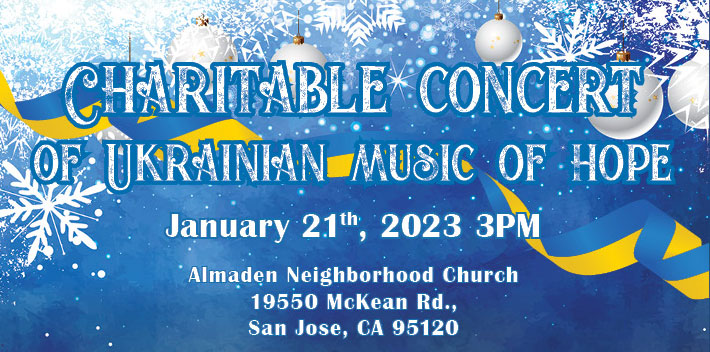 Charitable Concert of Ukrainian Music of Hope
A special charitable afternoon with Ukrainian compositions of classical music, folk songs, dances, and traditional Ukrainian food!
Tickets- suggested donation: $40 per person
Children: FREE
After the concert there will be a silent auction and Ukrainian traditional food for sale!
To buy multiple tickets, please click the "Other" button and enter the amount to pay.
Please select "Other" and put memo "Concert Jan 21, 2023"
Or make your checks payble to HROMADA and mail to :Hromada PO Box 7026, 7 Pixley Ave, Corte Madera, CA 94976
The concert is part of the Series Hromada's Initiative Charity Concerts.
Looking forward to seeing you at the concert and other Hromada events!
Please come and enjoy a wonderful collection of Ukrainian compositions!