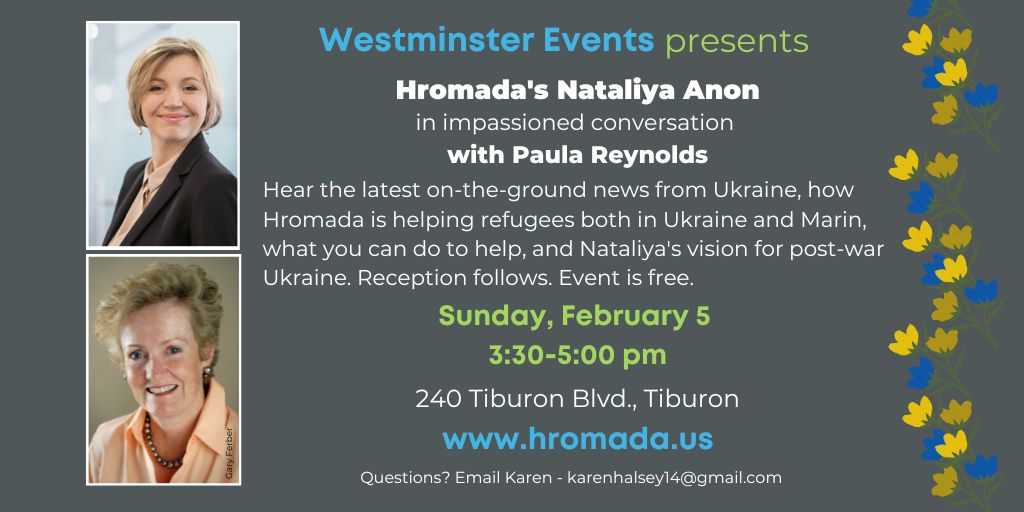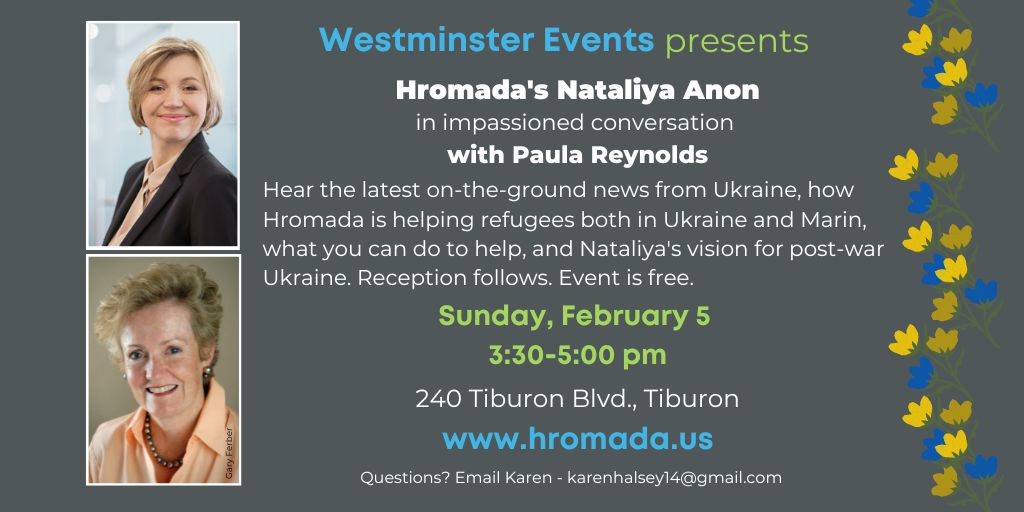 Speaker Event Focuses on Ukraine Humanitarian Crisis and Its Impact in Marin
Since the war on Ukraine began a year ago, Marin women and men are finding ways to help Ukrainians fleeing the horrors of war and those who cannot escape.
February 24 marks one year since Vladimir Putin ordered the full-scale invasion of Ukraine. For Marin County-based Hromada, a Ukraine-focused non-profit organization and newspaper, it's a grim milestone, yet also a mark of Ukraine's enduring fight to retain independence.
On February 5, Westminster Events (WE) will host Hromada's co-founder Nataliya Anon in conversation with community advocate Paula Reynolds. A reception will follow, allowing attendees to speak one on one with Ms. Anon, others supporting the war refugee efforts in Marin, and individuals who have benefited from their support.
Ms. Anon will share the latest on-the-ground news, including human rights violations and the mass exodus of Ukrainians. She also will tell how Hromada is providing financial support and guidance to Marin organizers who are finding housing for Ukraine refugees in Marin and beyond. Ms. Anon will explain how Marin residents can support the people of Ukraine and Ukrainian refugees through grassroots efforts, political advocacy and financial donations. She also will share her vision for a post-war Ukraine and what rebuilding will look like.
What: "Nataliya Anon In Conversation with Paula Reynolds" Speaker Event
When: Sunday, February 5, 2023 3:30-5:00 pm
Where: Westminster Events, 240 Tiburon Blvd. Tiburon, CA 94920
Who: Nataliya Anon is the co-founder of Hromada, a Marin-based non-profit organization and newspaper working for the benefit of Ukrainians, and the CEO and president of Svitla Systems, a global IT solutions company. Paula Reynolds is a longtime community advocate. Also, in attendance will be Jami Coulter, founder of Nightingale, a Ukrainian refugee housing provider based in San Rafael.
***
About Westminster Events:
Westminster Events ("WE") is a community learning center, offering classes, workshops, speaker events, concerts and author talks, housed on the campus of Westminster Presbyterian Church, 240 Tiburon Blvd. Tiburon, California. For more information www.westminstereventsmarin.org or erinielliott7@gmail.com.