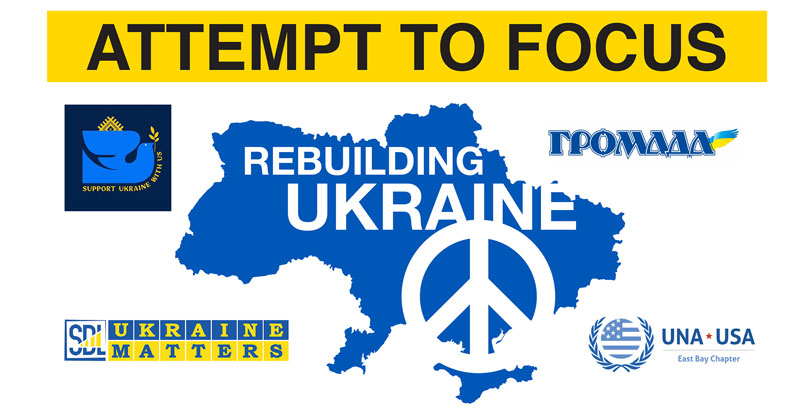 Attempt to Focus - An Art Performance and Fundraiser for Ukraine
WHEN: Friday, February 24, 2023 at 11:30 am – 2:00 pm PST
WHERE: Civic Center Plaza, San Francisco, CA
TLDR:
While we hope you can join the performance, you can make it possible through a tax-deductible contribution of any amount at
https://bit.ly/RebuildingUkraine
($10K is our initial goal, but the sky is the limit). 100% of the funds will go directly and immediately to various Ukrainian nonprofits working on a myriad of relief and resistance causes.
On Friday, February 24, 2023 – the first anniversary of the second phase of the Russian Federation's illegal invasion of the democratic nation of Ukraine – a coalition of volunteers will come together in San Francisco to raise funds for a variety of critical needs in the country through an artistic performance. Attempt To Focus is a site-specific performance series that uses meditation, stillness, intention in thought, and mindfulness to manifest a goal.
The idea of the series is inspired from the belief that one succeeds in one's head many times over before overcoming a challenge. In Attempt To Focus – Rebuilding Ukraine, we envision a future where Ukraine wins, there's peace, and Ukraine has everything it needs to build infrastructure better and greener than it had before. We envision a Ukraine where the Ukrainian people have everything they need to heal and feel safe, again.
The 501(c)3 non-profit Hromada will be both a recipient of funds and a fiscal sponsor. This will allow us to support them while also infusing funds into multiple small non-profits doing great work. Hromada is a well-established non-profit that has raised over $450,000 for Ukraine. You can see every donation and project they've funded on their website at: 
https://hromada.us/
 . We are honored to be partnered with them and truly believe in their work. Hromada will get 20% of the funds raised, with the remainder going to smaller nonprofits providing direct humanitarian aid and psychological support to Ukrainian civilians as well as members of the military and their families returning from the battlefield.